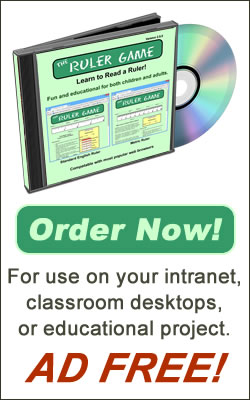 License The Ruler GameFor Use On Your Intranet,
Classroom Desktops, or Educational Project
Many educators have requested permission to use The Ruler Game on their own intranets, desktops, and in other educational projects. We offer a licensing option that will allow you to use the script where you need it and even customize the appearance. (A license permits you to display the ruler game program on one intranet web site (not publicly accessible), OR on the desktops of one classroom, OR in one CD based project. The copyright information and link must be visible.)
If you have questions or comments about The Ruler Game Site License, please email us at rulergame@rsinnovative.com.
If your school must place orders via Purchase Order, please print our mail order form and attach it to your school's purchase order. We will send an invoice with the product.
Why Purchase a License for The Ruler Game?
For many schools and companies, the free online version of The Ruler Game will work just fine. However, there are five primary reasons that you may choose to license The Ruler Game for use in your school:
Your school may not have Internet access on all computers or may not allow students to access the domain The Ruler Game is on. Having it installed locally eliminates this problem.
Some teachers do not want students to be exposed to the advertising on the free version of The Ruler Game available on my web site. The version you download when you purchase a site license is identical to what you can access online, but it doesn't have the advertisements.
Some teachers want to be able to reliably plan lessons or lab time that utilizes The Ruler Game. By having it installed locally, there is no concern about whether my web server will be up and running when the teacher plans to use it. This also eliminates the concern that we might change some of the code or functionality in the free version and the teacher's lesson plans won't go quite as planned.
Some people with HTML knowledge want to customize the text on the page or the colors. By purchasing a site license, they are free to modify it as their skills allow.
Some people purchase with no intension of installing it or using it in their classrooms, but they just want to express their thanks for us making the game and making it available for free to help students learn to read a ruler.